New Fan Works

Old Fan Works

Zelda Series

Multimedia

Features

Interactive

Site Info
Nintendo to Buy Sega?
---
This is an article that I found on the
IGN.com
web site, I did not write it.
---
Nintendo Really Buying Sega?

The rumors are flying, but this latest report seems to further hint at such a Mario-Sonic lovechild.
December 27, 2000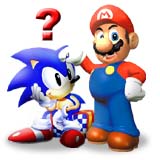 A few months ago, IGN received unconfirmed reports that Sega was interested in selling itself to the highest bidder -- possibly Nintendo. The company has recently been met with declining sales of its Dreamcast console and is said to be steadily slipping into financial trouble, so these industry rumblings were not considered unlikely. Today similar reports of acquisitions are again surfacing, this time from a news report by the New York Times.
In today's news story, the major newspaper claims to have information from "executives close to the negotiations," stating that both companies are, "...holding discussions that could lead to Nintendo acquiring Sega for about $2 billion." The story goes on to say that the transactions are not final at this point and that, ".the deal could still collapse."
Naturally, spokesmen for both Nintendo and Sega are firmly denying the existence of these reported meetings and instead refer to them as a rumor and nothing more. But according to these executive insiders, Sega's chairman, Isao Okawa, has actually been trying to sell the company for some time now and has even proposed such an offer to Microsoft in the past. IGN previously learned of this supposed proposition as well and has since heard that Microsoft decided to pass on the deal with Sega. Whether or not Nintendo will do the same remains to be seen.
Stay tuned as we bring you further news of Sega's merger possibilities and attempt to confirm these reports for ourselves.
©2000 IGN.com. Used without permission.

Sections

Articles